Top 10 reasons to come to Cedar Rapids for the NCAA Division III wrestling championships (March 6 & 7, 2009)
10. To see the Tree of Five Seasons (and learn what the 5th season is).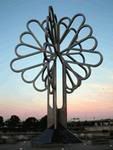 9. To learn to identify what Quaker is cooking - oatmeal or Cap'n Crunch?
8. To visit Cornell College and see the 1947 NCAA and AAU national championship wrestling trophies – the smallest school ever to win the large school NCAA title.
7. A one hour drive will get you to the re-opened Dan Gable International Wrestling Institute and Museum.
6. Local entertainment favorite,
Penguin's Comedy Club
, will be featuring
TC Hatter and Marcianne
.
5. The Big Ten Championships are all the way out at Penn State.
4. My Second Annual Division III Wrestling Championships Reception at the Cedar Rapids Marriott – Free food and adult beverages.
3. To help break the all-time Division III Wrestling Championships attendance record.
2. To help a great community recover from the worst natural disaster in its history.
AND the number 1 reason to come to Cedar Rapids for the Division III Wrestling Championships:
To watch some of the most dedicated student-athletes in college sports vie for an NCAA title.
Author's note: It's the holiday season and hundreds of families in Cedar Rapids are still without homes. Hopes for a merry Christmas are dim for many of them. You can help in a number of ways.
Many families need gift cards from stores like Lowe's, Menard's and Home Depot to help rebuild their homes. These cards can be sent to
United Way of Eastern Iowa
1030 5th Ave SE
Cedar Rapids, IA 52403
The Greater Cedar Rapids Community Foundation is coordinating several flood recovery funds. Find out more at their
website
.
The local Salvation Army is working hard to help. You can donate to them at
Salvation Army
PO Box 8056
Cedar Rapids, IA 52408-8056