A day to remember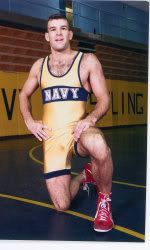 I was there when Doug Zembiec became an All-American. Wrestling for the US Naval Academy in the NCAA championships in Iowa City in 1995, Zembiec finished eighth and earned his AA status. I wish I could say that I remember all of his matches – it would make for a better story. In fact – I don't remember any of them.
The son of an FBI agent, Doug Zembiec was a two-time state champion at Albuquerque La Cueva High School. In an interview in the Albuquerque Journal, his wrestling coach, Ron Owen, remembered, "Whatever you asked of him he was going to do it, and then he was going to do a little more. He had a super work ethic and led by example. He was one tough kid."
Upon graduation from the Naval Academy, Zembiec was commissioned a Second Lieutenant in the Marine Corps. In 1999 his Force Reconnaissance Platoon was one of the first special operations forces to enter Kosovo. In 2004 (then Captain) Zembiec became famous as the "Lion of Fallujah" – a name given to him by his comrades.
He was decorated for bravery for his actions as a rifle company commander during the month-long campaign. He would receive the Silver Star, the Bronze Star with Combat V, the Purple Heart and the Navy and Marine Corps Commendation Medal. In November of 2004 he was rotated home for a stateside assignment and in July of 2005 he was promoted to Major. He would not be home long. Doug Zembiec felt that his ultimate role was that of a combat leader, so he went back to Iraq. On May 11, 2007 – just a little more than a year ago – Major Doug Zembiec was killed by small arms fire in Iraq. He left behind a wife and young daughter.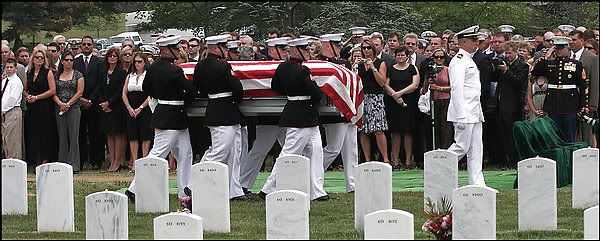 Too often we forget that the young men and women who go to war and die are sons and daughters, and brothers and sisters, and husbands and wives, and moms and dads and – yes – wrestling teammates.
Lance Corporal Randy L Newman was a high school wrestler in Oregon before joining the Marines. He was killed August, 2006 by a roadside bomb.
Marine Sgt. Brian McGinnis' high school wrestling coach tried to convince him to go to college. Instead, McGinnis enlisted in the Marines. He died March 30, 2003 when his helicopter crashed.
Army Sergeant Damien Ficek was captain of both the football and wrestling teams at Beaverton (OR) High School. Two months after graduating in 1996 Ficek enlisted in the army – eventually becoming a Ranger where he served until the end of his enlistment in 2000. In July, 2002 Ficek enlisted in the Army National Guard. He was a student at Washington State University when his unit was called up and deployed to Iraq. He was killed by small arms fire December 30, 2004 near Baghdad.
Army Staff Sergeant Patrick Lybert was an Eagle Scout and a high school wrestler. On June 21, 2006 in Afghanistan his unit came under a sudden violent attack. The unit was in the process of stowing recently arrived supplies and was caught off guard. Sgt. Lybert was the first to be able to return fire and did so until the rest of the unit could join him. Sgt. Lybert was killed in the action and posthumously awarded the Silver Star for his valor.
While in high school, Marine Sergeant Glen Martinez finished third in the Colorado state high school wrestling tournament. Less then a month ago he was killed by a roadside bomb in Iraq.
So, today – before you head to the Memorial Day furniture sale or before you fire up the grill for the family picnic – take a few moments to remember the fallen – and their families.