I love NCAA Division III athletes (my daughter was one). They are perhaps nearest to the idealized concept of "student athlete" of all those that participate in college athletics. Without benefit of athletic financial aid, they choose to compete primarily for one reason – love of their sport.
Saturday I attended the Coe College (IA) Turkey Open wrestling tournament. You can only watch internet wrestling videos so long before withdrawal sets in. You must see live wrestling.
A small-college wrestling tournament has a different feel than a larger event like the Kaufman-Brand Open (also held Saturday). First there is the intimacy. The gyms are small and even in the balcony you feel very close to the action. Then, of course, there is the heat and the perspiration.
Part of the crowd at the 2007 Coe College Turkey Open
The small arena and the intimate atmosphere have other benefits – one being that it is easier to meet friends and relatives of the athletes. I met members of a small entourage from Aledo, IL who had come to watch Coe's freshman star, Clayton Rush (winner of the 125 pound championship). I was impressed by how quickly they had all become such avid Kohawk fans. Amid all of their cheering for all of the Coe wrestlers, there was no forgetting whom they really came to see.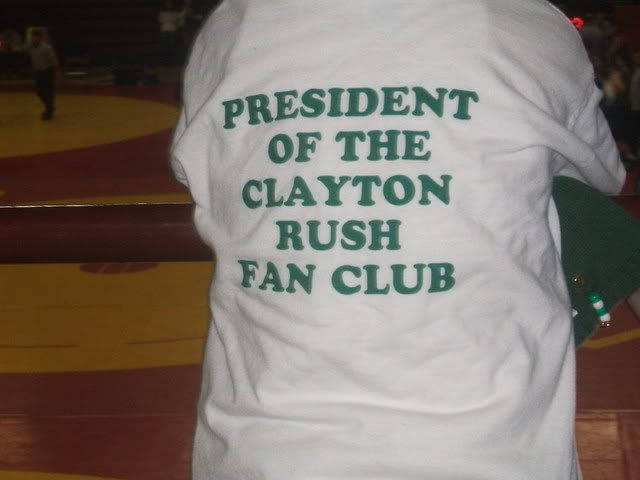 Generally, Division III wrestlers lack the skills of their Division I counterparts. They also typically come out of high school lacking the championship resumes possessed by large school wrestlers. There are, of course, exceptions. There are well-known cases of highly sought-after athletes recruited by major wrestling programs who, after a year or two in the big school's wrestling room opted to transfer to smaller schools. Undefeated (155-0), four-time DIII champion Marcus Levesseur from Augsburg College is the most famous of these. What they do not lack is the same competitiveness.
You'll see a lot of action in Division III matches – and a lot of scoring. You seem to see a lot less of the "hanging at the edge", tactical wrestling you'll sometimes encounter on the "big stage". That's what I enjoyed the most about Saturday's meet – all of that action.
One of my wife's friends told us a story about her son-in-law, who was a Division III wrestling All-American. They were celebrating the fact that he had finally obtained AA status in his senior year. In the middle of the party someone noticed that he had tears in his eyes. When asked what was wrong he said, "It just hit me – I'll never wrestle again."