US News and World Report
recently named Cedar Rapids one of the ten best places to grow up in America. The article cites our low crime rate, good schools and affordable housing as primary factors.
I'd like to add one – wrestling. Cedar Rapids high schools are probably best known in the wresting community for producing 3X NCAA Division I champion and Olympic silver medallist, Barry Davis; 3X NCAA Division I champion Jim Zalesky; 2X NCAA Division I champion and Hodge Trophy winner, Mark Ironside and 3X NCAA Division II champion Gary Bentrim.
However, the sport has long been a part of the community fabric. Every day I encounter people with wrestling in their backgrounds – from my favorite bartender to the plant manager at the company where I buy most of my printing. If I need new heels on my shoes, I allow an hour to drop them off and an hour to pick them up because I know that Rich Foens, the owner of Smitty's Shoe Repair, is going to come out from behind the counter and want to talk wrestling.
Several people were kind enough to share their reflections about growing up with wrestling in Cedar Rapids.
Bill Maroney describes himself as being very small when he started school at Wilson High in 1957.
"Coach Bo Cameron saw me in the hallway and talked me into coming out because he needed a 95lb wrestler. He said I could get a varsity letter and that was all it took to get me to try it. I actually loved it."
When Wilson and Roosevelt High Schools were combined to form Cedar Rapids Jefferson, Cameron became the head wrestling coach and lead the J-Hawks to a state championship in 1962.
As for Bill Maroney, "I fell in love with the sport, it was the highlight of my high school experience. It also helped me in my career (by teaching me) dedication and perseverance. I joined the Marine Corps after high school and stayed in 27 years, going from Private to Major. I have always felt that wrestling helped me throughout my career."
He continues to love the sport and has been a University of Iowa wrestling season ticket holder for 30 years. He has attended the NCAA Championships for many years – missing only while serving in Vietnam.
Another Bill – Bill Lahman – is widely known as one of America's most passionate college wrestling fans. Bill was first exposed to wrestling in 1957 as a 4th-grader at Cleveland School. "Bill Quinby was the PE teacher (and) in his first years as a teacher. Bill was very active in setting up all of the sports for us to try; football, basketball, wrestling, baseball and track. He set up a few weeks of practices and then had a tournament at the end for us all to have several matches."
Bill played football and wrestled at Jefferson and was a member of a state runner-up wrestling team in 1965 (and also a starting tackle on perhaps the most famous football team in Iowa high school history – the 1965 state champions). Bill remembers what it was like wrestling for Jefferson in the mid-60s, "We enjoyed a full gym of around 2,200 for nearly every home meet…"
Bill Lahman (CR Jefferson) defeats (CR Washington) 5-0. The official is long-time Iowa City High coach Clyde Bean.
Bill went on to wrestle for the University of North Dakota and finished fourth in the North Central Conference in 1968.
Bill also shared this interesting photo of two future Division I head coaches just prior to their 1966 high school state championship match.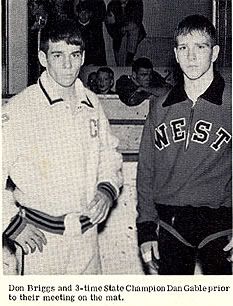 Sandy Stevens has been frequently quoted as saying that she fell in love with wrestling because, "I fell in love with a wrestler". Sandy and her husband, Bob (Bear) both attended McKinley Junior High and Washington High School before going to the University of Northern Iowa, where Bear wrestled for Bill Koll.
Sandy taught at Waterloo East High School for two years while Bear began work on his Masters and then both returned to Cedar Rapids to teach at "Wash". In 1967 Sandy became one of the first (if not the first) women to be certified as a wrestling official. When Cedar Rapids Kennedy High School opened, Bear became their first head wrestling coach. The story is now almost legendary – the night before his very first meet, Bear realized that he had not arranged for an announcer and pressed Sandy into service. Thus began a career that has made Sandy's one of the most recognizable voices in the sport.
Sandy remembers those early days at Kennedy, "…being involved in the start of a school and a wrestling team was exciting, a privilege and a joy. The fact that Bear and I could SHARE the experience made it even better. But it was also at times frustrating. Many kids wanted to stay at their former schools, especially athletes, so early on, we struggled to find enough bodies to put in singlets and then to win. I remember that one time our smallest wrestler literally weighed in with his winter coat and boots on! But you couldn't ask for more loyalty, dedication, work, and heart than those young men had! And their parents were amazing."
Robert C. (Bear) Stevens went on to a distinguished career as an educator, ultimately as Superintendent of the Glenbard Township (IL) Schools for many years. Sadly, Bear passed away in 2001. I know one of his wrestlers pretty well and the impact Bear had on those young men is tremendous.
Gregg Dinderman was a self-described, "very poor wrestler", but there's no denying his love for the sport. Gregg made this observation, "I do like the notion that wrestlers in CR come from all neighborhoods, all backgrounds and all ethnicities, but still share this strange little sport in common."
Gregg currently lives in Cambridge, MA and is the illustration director for
Sky and Telescope Magazine.
Barry Davis started wrestling in the 4th grade at the YMCA. "I was lucky to always have great coaches, starting at the Y". He wanted to be an Olympic champion from very early in his career and credits his father with his work ethic. "My dad worked two jobs to put food on the table. I saw the hard work he did and I put that same effort into my wrestling."
Coach Davis also believes that the Cedar Rapids work ethic is why the community loves wrestling. "They appreciate hard work. They know that things aren't always easy and that some times you just have to grind things out. And they take pride in what they do and in representing themselves and their community… like Quaker Oats – they take pride in making great products that are sold all over the world."
Coach Davis wrestled at Cedar Rapids Prairie High School with another Distinguished Member of the National Wrestling Hall of Fame, Jim Zalesky, and remembers the beginnings of the Prairie/Jefferson rivalry, "People came (to the meets) from all over the city – not just from Prairie or Jefferson - to see great wrestling".
Barry Davis won 3 Iowa high school state championships, 3 NCAA Division I championships, an Olympic silver medal and two silver medals at the World Championships and is currently the head wrestling coach at the University of Wisconsin.
Mark Ironside started wrestling because his older brother Matt would come home from Wilson Middle School wrestling practice and try his moves out on Mark. "At the time I was a 5th grader at Van Buren Elementary. Once he started showing me a couple things I entered a kids tournament at Linn Mar High school where I got beat pretty bad every match but one. Then a few weeks later I went to a tournament at Kennedy High school called the Daybreak Optimist. There were only 4 people in my bracket, but I won the tournament. From there on I was hooked."
Mark, a two-time Iowa high school state champion at Jefferson, a two-time NCAA champion and 1998 winner of the Dan Hodge Trophy, has some concerns about the future of wrestling in Cedar Rapids.
"I think the wrestling culture in CR used to be a lot tougher than it is now. This used to be a pretty tough blue collar factory city, but now, along with most of society, things have changed. I don't believe that the kids are raised the same these days with all the technology that they have vs. what their parents had. Hence, the kids today do not need to work for what they get as much and parents are fine with the kids spending hours in front of the TV playing games or on hand held games instead of having them get outside and exercise. That is not a knock on CR as it is the general society as a whole. I think that CR is a fantastic town with lots of pride. Along with the "potential" to produce some fantastic scholastic programs and businesses throughout."
Mark is currently owner and president of Ironside Apparel and Promotions Inc. and has a
website
devoted to Hawkeye wrestling apparel. He remains active in wrestling as an announcer for University of Iowa wrestling meets on KXIC-AM radio and a wrestling commentator on our local ESPN radio affiliate, 1600. Mark also puts on his own wrestling summer camp at Jefferson High School and helps coach a freestyle club at Coe College.
One might say that, as a junior at Coe College, Clayton Rush is finishing his "growing up" in Cedar Rapids. I asked Clayton for his observations about the "wrestling culture" in Cedar Rapids.
"I feel like the community here is more responsive to wrestling than it is in Aledo (Clayton's home town). There are summer clubs that are held here at Coe. In Aledo, there is hardly any summer wrestling that goes on, maybe a few kids. Here in Cedar Rapids there are enough kids that want to do summer wrestling to make a club. That also goes to show the support of their parents and the rest of the community. Not only do they support it, but they encourage it as well."
I recently watched a video segment of Dan Gable finishing up a clinic. In his closing talk he said, "America needs wrestling. America needs tough (people)." Well – Cedar Rapids needs wrestling. Cedar Rapids needs tough people. We're still battling to recover from the flood of 2008 – one of the five most financially damaging natural disasters in American history. We are still hundreds of millions of dollars short of what's needed for a full recovery.
Barry Davis feels that the things that wrestling teaches are helping Cedar Rapids fight back, "It's an individual sport, but you can't do it on your own. You need someone to drill with. You need coaches. You can see that with the flood, the teamwork, the pride in the community…"
Yes, Cedar Rapids is a great place to grow up – both of my daughters did and now my grandkids are. It can be an ever better place to raise kids once we finally put the flood behind us. You can help. The Greater Cedar Rapids Community Foundation has a number of flood relief funds and offers portals to other organizations serving flood victims.
Click over there
right now and make a donation.
And what about wrestling? Well, the NCAA Division III Championships will once again be held here at the US Cellular Center. Set aside the first weekend in March, 2010 to come to our great city and watch some outstanding wrestling.