Olympic champion, Henry Cejudo, appeared on The Tonight Show with Jay Leno Wednesday night. Henry was funny and charming. His story is well-known to the wrestling community – the son of undocumented immigrants, his early life was filled with struggles. Henry and his six siblings were raised by his mother, who worked countless hours to keep her family fed. They moved from Los Angeles to Arizona for better opportunities. Henry and his older brother, Angel, took up wrestling – and became champions (8 state titles between them). Upon hearing about the 8 championships Leno remarked, "I'll bet nobody ever stole your lunch money." Henry's reply was, "We didn't have any."
The desire to win Olympic gold burns intensely in Angel and Henry. They took the non-traditional path of going directly from high school to the Olympic Training Center in Colorado Springs. Henry has his gold – Angel still pursues his.
(To view Henry's appearance go to
http://www.nbc.com/The_Tonight_Show_with_Jay_Leno/video/episodes/
click on August 27 and fast forward to about 32 minutes)
Randi Miller couldn't make the basketball team at Arlington (TX) Martin High School because the coaches thought she was too short. Fortunately for her, Texas is one of the few states that sanctions girls interscholastic wrestling. Even more fortuitously she had a coach, Tony Warren, who believes, "Wrestling is a sport that no matter what your size is, it comes down to how big your heart is and how hard you're willing to work. If you've got those things you can go a long way." He saw those things in Randi.
The path for women wrestlers is more challenging than it is for men. First, in all but a handful of states, if a high school girl wants to wrestle she must do so on a boys team. Only one girl in the history of American wrestling has ever won a state championship competing against boys – Michaela Hutchison.
Randi Miller, however, had the opportunity to compete only against girls. She has credited that for her confidence. After graduating from high school Randi went to Neosho County Community College and then on to one of the few American colleges with women's varsity wrestling, MacMurray College in Jacksonville, IL. She then went to the US Olympic Education Center at Northern Michigan University.
A couple of weeks ago Randi's journey culminated with a Bronze medal in Beijing.
Nick Ackerman is a bilateral amputee.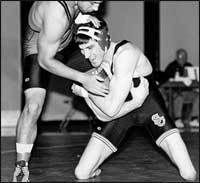 In 2001, I went to Waterloo for the NCAA Division III Wrestling Championships and saw Nick wrestle. In the finals he faced number-one-ranked Nick Slack of Augsburg College who had won his previous 60 matches. To say that the match was exciting is pure understatement. Ackerman won 13-11 and was named Outstanding Wrestler of the championships. Later that year he would join Cael Sanderson as co-winner of the Hodge Trophy – wrestling's "Heisman". Recently, his championship was named by the NCAA as one of the 25 "defining moments" of the last 100 years.
Today, Nick works as a prosthetist – helping other amputees.
Anthony Robles was born with one leg.
Undefeated as a high school senior, Anthony now wrestles at Arizona State University. Last season, as a freshman, he finished one match away from All-American status in Division I.
Michael Spriggs is blind. A recent graduate of Charles H Flowers High School in Springdale, MD, Michael has been visually impaired since birth. Born with cataracts, a series of complications and an accident eventually plunged him into total darkness. From the fifth through the tenth grade he lived and studied at the Maryland School for the Blind. He transferred to Flowers his junior year where he met geometry teacher/wrestling coach Odist Felder. An educator in every sense of the word, not only did Felder figure out methods to teach geometry to a blind student he encouraged Michael to join the wrestling team. Michael was 13-12 his first season and made the state tournament this year.
The only rule concession that is given a blind wrestler is that his opponent must always be in physical contact. The wrestlers must touch hands in the neutral position. If contact is broken they must re-start.
Here's more of Michael's story from ESPN.
http://sports.espn.go.com/broadband/video/videopage?categoryId=3060647&brand=null&videoId=3394576&n8pe6c=3
Wrestling is the embodiment of the "American Dream". Hard work, learning, tenacity and resilience are rewarded. Best of all - anyone can win. Race, size, gender, economic status, nationality – none of that matters. Even those with physical challenges can triumph. Now THAT'S opportunity.